Read this in:

Nederlands (Dutch)
Visit el Caminito del Rey, the number one tourist attraction of Andalusia and enjoy the extraordinary beauty of this natural marvel. Walk at high altitudes over wooden boardwalks along 400-meter-high cliffs and take in the breathtaking views.
The Caminito del Rey; one of the most beautiful trips to be made in the south of Spain. An absolute recommendation for everyone!
The Caminito del Rey, ideal for a short day trip
Only for those with a strong fear of heights, it might not be the most advisable trip to make. But for anyone else, the Caminito del Rey is a incredibly beautiful and very safe hike through the Andalusian nature at less than a one-hour drive from the Spanish city of Málaga at the Costa del Sol.
El Caminito del Rey, The King's pathway
In the Desfiladero de los Gaitanes nature park with its azure blue reservoir lakes, is the Gaitanes gorge of El Chorro located. Its enormous cliffs reach up to 400 meters. The natural beauty is overwhelming.
On both sides are hydropower plants located. These plants and the water channels that connect them were built in the first years of the 20th century to generate electricity, mainly for the flourishing textile industry in Málaga. To maintain the open water channels, a maintenance path was constructed. This pathway was named 'El Camino del Rey' (the King's pathway) after King Alfonso XIII who officially opened the waterworks at its completion in 1921. Nowadays it is known as 'El Caminito del Rey', meaning 'the king's little pathway'.
The Caminito del Rey VIP Experience
Although there are several options to visit the Caminito del Rey, like by (rental)car, large tour operator or train, you might like to experience this excursion in the most luxurious way possible: the Caminito del Rey VIP Experience.
Your driver will pick you up at your location in the Málaga area for a smooth ride in a luxury SUV or minivan to the track's starting point. He will escort you to the main entrance and after finishing the Caminito del Rey route he'll be waiting for you with a refreshing drink and take you back to the coast in style.
On the way to the Caminito del Rey, you will be informed about the history and other interesting facts about the pathway so you will start the walk well prepared.
You can take all the time you need to fully enjoy this unique experience, to take pictures or videos, and to take in all the natural beauty.
IMPORTANT NOTICE: Due to high demand, tickets for the Caminito del Rey are scarce. We will always try to find tickets that best fit your plans but it helps if you indicate on the request form what other dates and times you are available.
Prices
Group of 2: 115 euro p.p.
Group of 3: 92,50 euro p.p.
Group of 4: 77,50 euro p.p.
Group of 5: 72,50 euro p.p.
Group of 6: 65,00 euro p.p.
For groups larger than six persons, we have to rent a minibus or couch. Please, send us an e-mail to ask about the prices.
Important notice: Children under 8 years of age are not allowed!
How to book
Because the availability of this tour depends on the availability of the entrée tickets, it is not possible to book this tour online. Please send us an email or call +34 635 341 872 to make a booking request.
---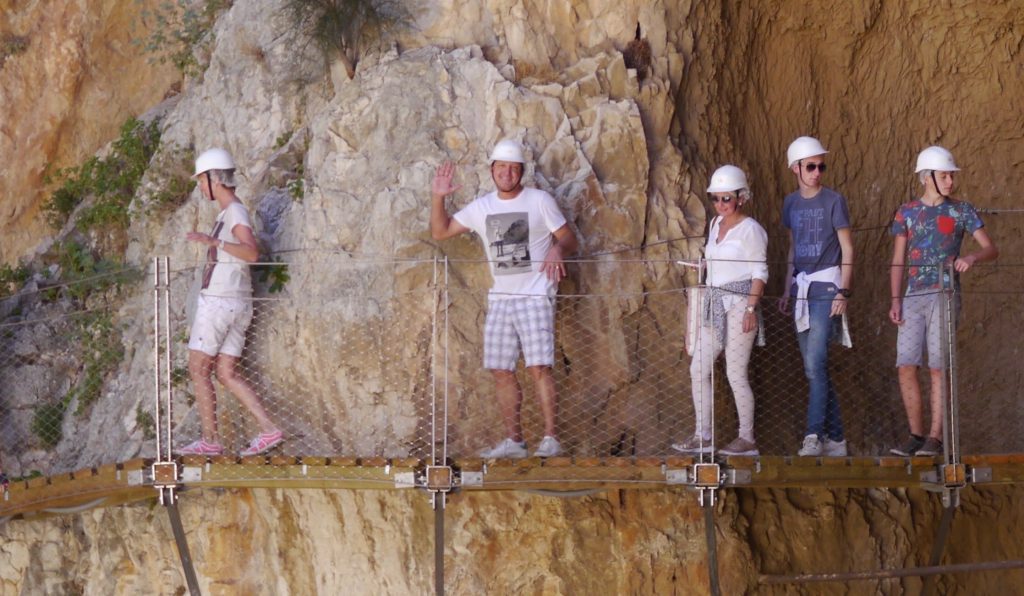 DEPARTURE/RETURN LOCATION
Your address in the greater Málaga area (max 15 min. from Málaga city)
DEPARTURE TIME
Depending on the entree time Caminito (in consultation)
RETURN TIME
Approximately 5 hours after pickup
WEAR
Comfortable clothing, hiking boots or sturdy sneakers, hat, jacket and sunscreen.
INCLUDED

| | |
| --- | --- |
| | Entry tickets for the Caminito del Rey |
| | A cooled bottle of mineral water and a refreshing drink afterwards |
| | Transportation in luxury mini-bus |

NOT INCLUDED
Read this in:

Nederlands (Dutch)
Tickets to the Caminito del Rey are allocated to a certain access time. This is to ensure that only a limited number of people visit the pathway at the same time.  The itinerary below is based on the entree time as indicated on your tickets. This will be communicated with you at the time you make your reservation.
The mentioned times are based on a pick-up/drop-off address in the Málaga area. For addresses more than 15 min. from Málaga city, different transportation times (and additional cost) may apply.
2 Hours before entree time Caminito: Pickup
We pick you up at you stay, two hours before the indicated entree time for the Caminito del Rey. This gives us enough time to drive to the location and if we have spare time, to do a little site-seeing.
In the car your will receive information about the history of the Caminito del Rey and practical information about the hike.
30 Minutes before entree time Caminito: Start the walk
To be at the entree point on time, we start walking the 1,5 km long access road 30 minutes beforehand.
Entree time: Walk the walk
Finally, it is time to start your Caminito del Rey experience.
We escort you to the gate where your tickets are scanned and you will be handed out a helmet and a hairnet.
Here we split and you walk to pathway by yourselves in your own pace. After a short safety instruction you are good to go! 
2 Hours later: Finish
On average people need around 2 to 2,5 hours to finish the walk. When passing the exit gate, we will be waiting for you with a well-deserved refreshing drink.
1 Hour later: Drop off
 While sipping your drink we head back to drop you off at your address. The ride back takes about 1 hour.